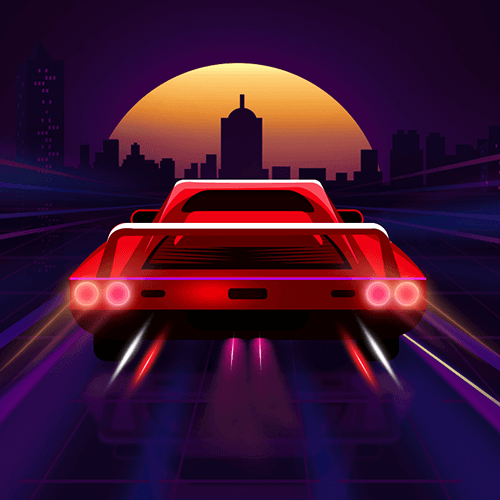 Rush Casino Game
Rush is a tren-ball crash game. The game involves a car moving continuously in a city landscape before leaving. The gameplay is simple as follows: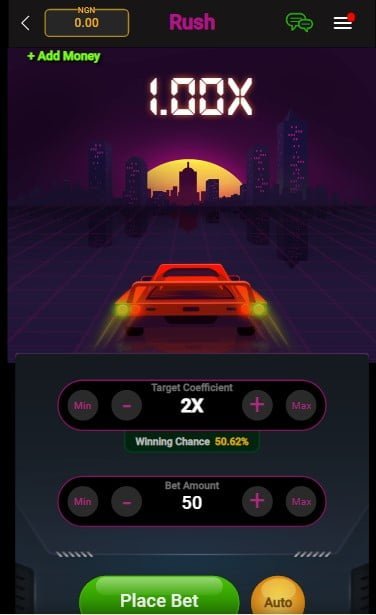 The player selects a Target Coefficient that they think will be achieved by the Car.
The player then selects their Bet Amount.
The player can place their bet manually by clicking on the "Place Bet" button or clicking on "Auto" button to enable automatic bets. The Target Coefficient and the Bet Amount set when the Auto Bet is turned on will be considered for all Auto Bets until the player stops the Auto Bet.
The player places the Bet (Manual or Auto).
The car will speed up to leave as soon as the bet is placed. The House Coefficient will start once the car speeds up and will stop once the car leaves, which will be the exit/final house coefficient.
If the exit/final house coefficient is higher than or equal to the target coefficient selected by the player, the player wins. Cash-out = Bet Amount x Target Coefficient chosen by the player.
The Winning Chance shown below the target coefficient is an approximate value generated dynamically.
HOUSE COEFFICIENT
The winning House Coefficient starts at 1.01x and keeps increasing as the car speeds up and moves ahead.
Your winnings are calculated as: "Your Bet x Target Coefficient set by you".
Before the start of each round, our random number generator generates the exit/ final house coefficient at which the car would leave.
RANDOMIZATION
The house coefficient in each round is generated randomly by an algorithm.
WINNING CHANCE
Winning chance is calculated taking the RTP (Return To Player) into consideration based on cumulative probability calculations.
RTP (Return To Player)
The overall theoretical RTP is Y%. This means that on average, for every 100 rounds, every 100-Y rounds end with the car moving away at the very beginning of the round.