CUT3 by iGamer as the name implies allows you to get paid for your ticket even if up to 3 games in your ticket cuts. The lesser the cut the bigger the Pay.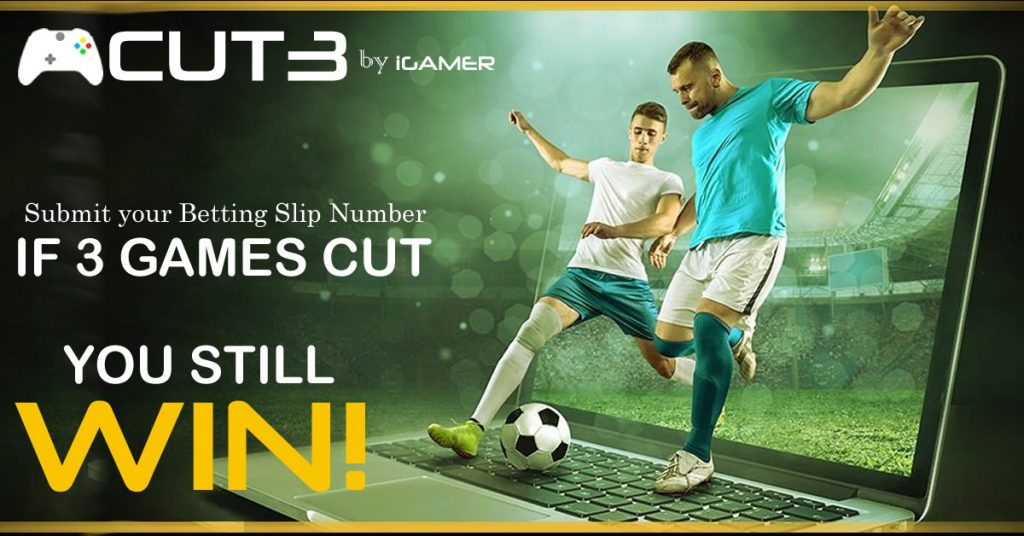 With iGamer's Revolutionary LIVE Match analyses system, your cut ticket can still earn you a decent amount of money, so it is wise to also book your betting with iGamer after booking with your favorite bookmaker.
Doing so will ensure that you don't put all your eggs in one basket and this can often times recover your betting stake and much more pay than you ever expected
What is CUT1
CUT1 simply implies that out of your tickets of 15, 20, 30 to 40 Games, only one of them cut or did not turn out as you predicted. Your ticket with some Bookmakers will not still earn you a dime if one of your tickets cut.
But with CUT3, you will get a Bigger pay if all of your tickets deliver and only one cut, most times you can get paid even way more than your Bookmaker would have paid you with a full played ticket
What is CUT2
Just like CUT1, CUT2 implies that amongst the list of your Games, if only 2 cuts, you will still get paid, the only difference here is that CUT1 pays way more than CUT2.
iGamer is not a Bookmaker nor a Betting Company but rather a Software company for the betting and sporting Industry, hence you must first book your games through your chosen Bookmaker and then use the Booking Number or Betting Slip Number to place your second bet on iGamer.
Our prefered Bookmaker of choice has always been Bet9ja and we would prefer that your ticket or booking be done on Bet9ja for easy processing
What is CUT3
If your ticket cuts up to 3 Games, you have lost on any Bookmaker site out there but that is not the case on iGamer. With iGamer's CUT3, you will still get bigger pay even when your ticket cuts up to 3 games in it
Just like CUT2, if you have a CUT3 in your ticket, your payout will be a little lower than CUT2 and CUT1 respectively but it will still be a BIG Pay
How to get Started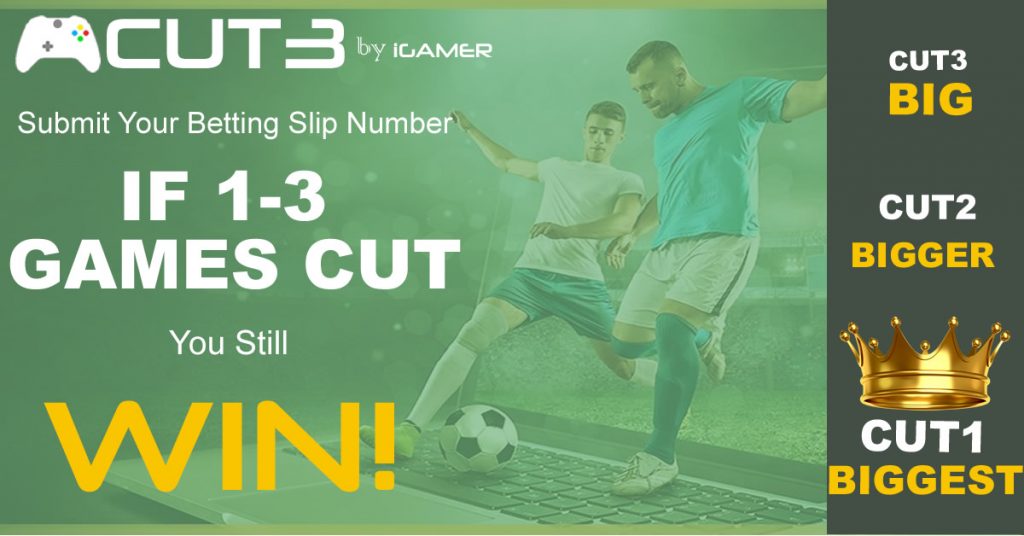 There are 2 ways to get started and place your CUT3 Bet
Placing your CUT3 Bet Online
To place your CUT3 Bet online;
Proceed to iGamer.me to register for an Account if you don't have one, after you successfully register and verify your account
Click Fund Account and deposit the amount you wish to place the bet with.
Click on Place Bet on your Profile, insert your Betting Number and select amount, then click on place Bet, your iGamer account will be charged of that amount and your CUT3 bet will be placed
Once the Game has finished playing, you will see your result under Bet either as WON or LOST. If you won, the proceeds of your winning will already be in your iGamer account and you can withdraw.
NOTE: Your Game has to cut a maximum of 3 times for you to win, if it cuts more than 3, you will lose. If it cuts 1, you win even the biggest of pays. If it cuts 2, you get a decent bigger pay
Placing your CUT3 Bet over the Phone
You can easily contact iGamer's Telebooking Number: 0809898989 to place your bet over the phone or through the Telebetting Number on WhatsApp
Before doing you must NOTE that since it is more of a manual process, you might have to transfer the amount you are booking with to iGamer before your bet can be placed
Terms and Conditions
There are terms and conditions that apply to using CUT3 and they are listed below;
Your ticket must contain 20 or more tickets or the Odds must be up to 8,000 for such game to qualify for CUT3
You must send in your Bookings earlier, at least 1 hour to the time of any game playing in the ticket to avoid one match commencing witout your CUT3 bet being placed
Your Ticket Odd must not be lower than 5,000 odds
iGamer reserved the right to reject any Game without any consent of any form
Disclaimers
iGamer is not a Bookmaker and does not place a bet on any of it own booking platform but rather iGamer is a Software Development Company for the Sports Betting Industry that relies on license Bookmakers to process their CUT3 Games after analyzing these Games through their Revolutionary LIVE Match Analysis software
As always the case, we do not guarantee any form of Financial gains or success, what works for Mr. A might not work for Mr. B and though we have tested our software and got success in it, to protect ourselves legally, we do not offer such as a guarantee to any organization, Individual or Entity
Use the money you can lose, iGamer shall not be held responsible or liable for any loss of money or property in the course of your actions on any piece of content on this site